At Orlando Estate Auction we are an estate sale company. Our estate auction services serve the same purpose as an on site estate sale company. We liquidate estates in a rapid and professional manner yet we do it in our auction gallery. Liquidating an estate in our estate auction gallery allows the real asset, the real estate, to be prepared for sale by realtors and their team of experts.
When a loved one passes away leaving an estate the real estate or house is typically the largest asset containing more than 90% of the total estate value. To liquidate that real estate asset in a rapid, quick and professional manner it is the industry standard to hire an Estate Sale company that liquidates estates by auctioning them in an auction gallery. This frees up the real estate for the realtors to prepare, market and sell.
At Orlando Estate Auction, our estate sale company professionals will empty your real estate within two days of your initial call leaving it as they found it yet empty of your estate inventory. This leave as found method is much different than hosting an on site estate sale where anything can happen and it typically does. With handfuls, possibly even hundreds of bargain hunters parking on the lawn, trampling through the house and trying to remove items on their own damage can occur to the walls, floors, fixtures, landscape, sprinklers and other parts of the residence. This damage can be minor cosmetic or major causing an insurance claim. The story only gets worse if a bargain hunter is injured on the property. The on site estate sale company will also run the air conditioning at full blast with doors open causing temporary freeze up or even compressor lock up. This only begins to address the possible nightmare situations that occur at on site estate sales conducted by estate sale companies in Orlando.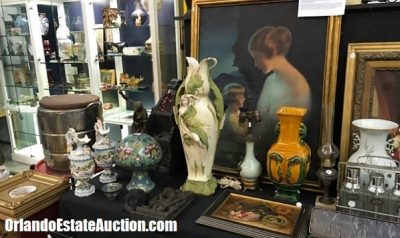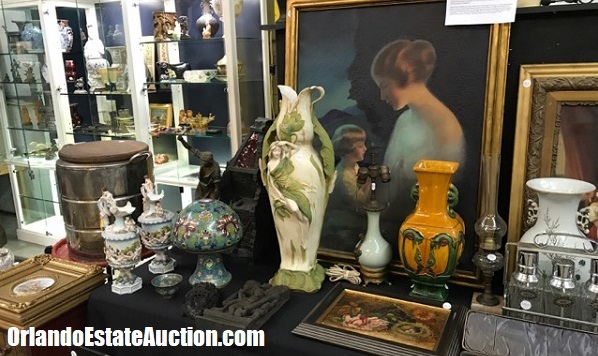 At Orlando Estate Auction our estate sale company services include professional loading and transportation of estate inventory, label and display in our auction gallery and hold an estate auction where our consignors inventory is sold to the highest bidder at our estate sale company estate auction. Our professional loading staff are the only people that will be in and on your real estate during this process. The loading process is designed to be a two to three hour process and your real estate is ready for a cleaning crew and realtors. Our estate sale company process prevents damage to the house and does not provide for the possibility of people being injured on site and insurance claims that may follow.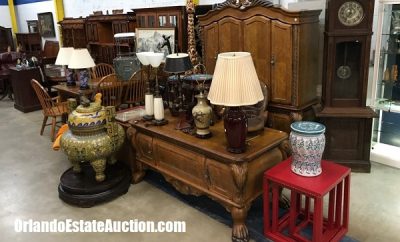 One might be amazed that on average 160 estates become available for sale due to the passing of a loved one on a weekly basis in Orlando and central Florida. These estates vary in size and quality yet all must be addressed and liquidated in one fashion or another. We repeat our estate sale process multiple time weekly to clear estates for multiple consignors. These multiple estates are marked and displayed in our auction gallery preparing for our Saturday Auction.
We hope that this brief description of our Orlando estate sale company and the auction services that we provide are informative and enable you to make an informed decision about the liquidation of your loved one's estate. The description of Orlando Estate Sales that are hosted on site might seem a little scary and it should be. Inviting hundreds of unknown people into your loved ones home for a glorified garage sale is just not a sensible solution to liquidating a loved one's estate.
If you are ready to liquidate your loved ones estate inventory please submit our Orlando estate sale company consignment form with a few photos to begin our rapid estate liquidation process. If you have questions regarding our process or questions in general they may be answered on our FAQ page. For questions that are not answered on our website please send us an email or call us at 407-290-1000 during regular business hours.