Our Orlando Estate Auctions are held every Saturday at 4:00 p.m in our centrally located auction gallery. We have a registered bidder database of over 65,000 bidders that have attended our auctions and purchased items. Many of these bidders are regular attendees at our Saturday auctions and attend our auctions to purchase inventory for their online stores, resale stores, antique stores, and other used furnishings businesses. Many of our bidders are locals furnishing their homes, collectors, dealers and online store operators. Our wide variety of bidder credentials provides for competitive bidding of our auction gallery inventory. Our auctions host an atmosphere of excitement and competitive bidding which promotes an overall enhanced value for our consignors inventories.
Every Monday we begin our week by picking up varied estates that have been consigned for our Saturday estate auction. We pick up between three to seven estates weekly and transport them to our centrally located auction gallery. Estate inventory are catalogued at pickup and upon arrival at our gallery each item is tagged with the consignors identifier and placed in our gallery. Following gallery staging our staff will polish and wipe wood, glass and other non porous surfaces to prepare them for photography. Our staff will photograph the gallery on Wednesday afternoon and select images for our online auction gallery.
We begin building the excitement for our estate auctions every Wednesday when we publish our current inventory in our online auction gallery. Our regular bidders will develop a potential bid list based upon our posted inventory images. We will receive many call in bids for items that are shown in our online gallery during the days preceding our Saturday auction. Call in bids are catalogued and carded for use during our live auction. Our online gallery is busy between Wednesday evening and Saturday afternoon with thousands of visits to our current inventory page occurring over this short two day period.
On Saturday at At 3:00 p.m. our auction gallery opens for a one hour preview of our inventory. At this time our staff is on hand to answer questions and manage the security of our consignors inventory. Bidders are able to walk around our gallery and view the inventory up close, inspecting it for condition, quality and markings. Our gallery is divided into two sections to streamline the bidders inspection. Our front gallery is staged with premium estate items while our rear gallery is staged with boxed lots and value estate items.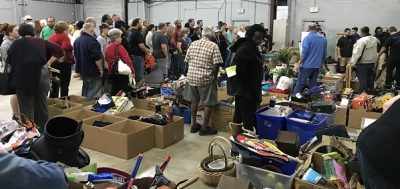 At 4:00 p.m. our boxed lots and value based auction begins and lasts until 5:30. As seen in the image above bidders bid on choice of boxed lots for premium boxed items and them will bid on the entire row for remaining lots once the premium items are sold. This portion of our auction has a dedicated following of bidders who depend on our weekly auctions for their collections, store inventories, and other methods of resale. Our consignors can rest assured that nothing is under priced as our bidders are experienced and knowledgeable in their niche area of resale. This section of our estate sale auction also has a following of collectors who carefully inventory each boxed lot box to determine which box to purchase. This provides for competitive bidding and higher sale prices. Our bidders are knowledgeable about their inventory, they have done their research and are ready to place their bids to obtain their inventory for resale. One must also understand, these bidders are not attending on-site estate sales as there is not enough time to travel to estate sales to gain their inventories or build their collections.
Bidders will pay for their purchases at the end of this auction segment and load their purchases clearing our rear gallery for sold staging of our premium estate auction. This provides for the expansion of seating to assure that our premium auction has ample space to comfortable seat our bidders for our premium estate auction.
At 6:00 p.m. our premium estate auction begins, this section of our auction features our consignors estate vehicles, estate jewelry, estate collectibles, furniture, antiques, artwork and other premium estate inventory. Our bidders for this segment of our auction contain many local and state wide resale shop owners, antique dealers, collectors, online store owners, jewelry store owners, interior decorators, art gallery owners and other premium resale niche dealers. Many local collectors and local residents looking to furnish their homes will also attend this segment of our auction providing for a full gallery of bidders placing bids competitively to achieve the highest value for our consignors. Many of our regular bidders have assigned premium seating in our front two rows in our gallery to assure that they have clear views of our consignors inventory.
This portion of our auction will last until approximately 8:00 p.m. At that time all bidders must pay for their Orlando Estate Auction purchases. Our staff remains on hand to assist in loading of purchases. Bidders may chose to pick their purchases up on Sunday prior to noon. This clears our auction gallery to begin loading the next weeks consignors inventory into our gallery for the next weeks auction.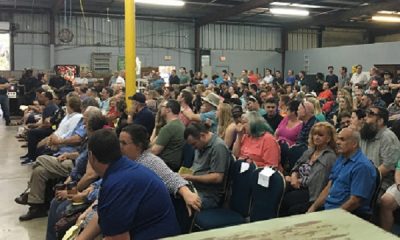 On Monday our accounting staff balances each estate, this is reviewed and approved by our management and consignor checks are issued and mailed on Wednesday. This quick and efficient estate sale by estate auction process reconciles an estate in 11 days.
We invite all potential consignors to visit our auction gallery on Saturday and experience the excitement first hand. As each and every estate is different yet somewhat similar a potential consignor that may have questions will be able to answer them by experiencing our auction. As we auction several estates weekly you will be able to discover similarities in inventory and find a sense of ease with consigning your estate with Orlando Estate Auction.
Orlando Estate Auction, offering estate sale and estate liquidation services by auction in Central Florida including Orlando, Winter Park, Longwood, Lake Mary, Windermere, Isleworth, Lake Nona, Clermont, Sanford, The Villages, Kissimmee, Daytona Beach, St. Augustine, Melbourne, Cocoa Beach, Cocoa, Tavares, Winter Garden, Apopka, Bay Hill, Lakeland, Orange County, Seminole County, Volusia County, Brevard County, Lake County, Osceola County, Polk County, Sumter County, and beyond.